Superb Rembrandt Paintings
Masters Reproductions

This Rembrandt Paintings Page is part of 'The Great Masters' section, if you haven't yet read it, or our 'Home Page', maybe you'd like to check them out before reading on.

The following, is a brief biography of Rembrandt van Rijn, his life and works, with several excellent examples of Rembrandt paintings woven into the text. If you have a favorite work of his, just let us know the name of the piece, and we'll create it for you from our vast photo stock of his works.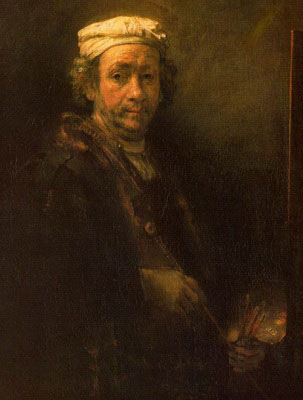 Rembrandt Harmenszoon van Rijn, the son of a miller was born in Leiden on July 15, 1606. Despite his humble beginnings, his parents took the utmost care to ensure the best possible education for their son.

Rembrandt began his studies at the Latin School, then at the age of 14 he was enrolled at the University of Leiden. The program did not interest him much, and he soon left to study art. First with the local master, Jacob van Swanenburch; then in Amsterdam, under the guidance of Pieter Lastman, famous for his historical paintings.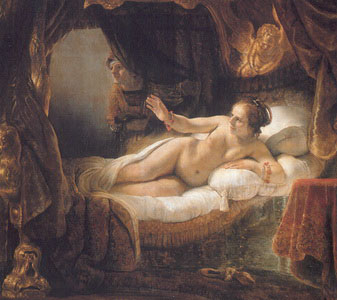 After only six months, he'd mastered everything Lastman had to teach, so he returned to Leiden, where he soon found himself highly regarded and in demand.

Although barely 22 years old, he took on his first pupils. One of which was the famous artist Gerrit Dou.

Rembrandt moved to Amsterdam in 1631, where he met, and later married Saskia van Uylenburgh in 1634. His marriage to Saskia, the cousin of a successful art dealer, greatly enhanced his career.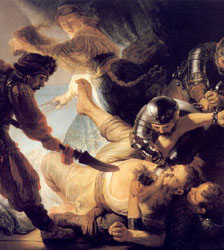 The association with Saskia brought him into contact with a multitude of wealthy patrons only too eager to posses fine Rembrandt paintings.

During this period, Rembrandt's mythological and religious works were much in demand, and he painted numerous dramatic masterpieces such as The Blinding of Samson in 1636.

Because of his renown as a great teacher, his studio was soon filled with pupils, many of which already trained artists, such as Carel Fabritius.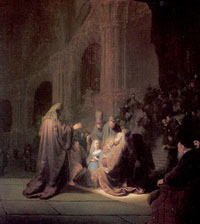 Many Rembrandt paintings were created in his in his fashionable town house in Amsterdam. The house, purchased by the artist in 1639, proved to be the scene of much personal tragedy. His wife and three of his children died there.The house later became a financial burden, and in 1660 Rembrandt was forced to move.

In 1911 the Dutch movement made it a Rembrandt museum, preserving it both as a shrine of a revered national artist and as an imposing example of 17th Century Dutch architecture.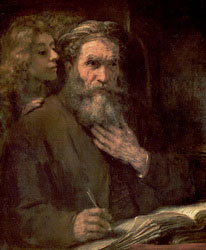 In contrast to his hugely successful public life, Rembrandt's family life was marked by misfortune.

Between 1635 and 1641 his wife Saskia gave birth to four children, but only the last, Titus, survived. Her own death came about in 1642, at the age of 30.

Rembrandt later engaged Hendrickje Stoffels, as his housekeeper in 1649. Eventually, she became his common-law wife and was the model for many of his later portraits.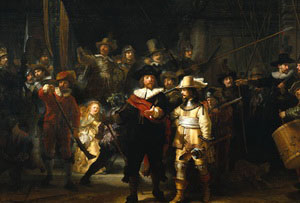 Despite Rembrandt's financial success as an artist, teacher, and art dealer, his penchant for ostentatious living forced him to declare bankruptcy in 1656. An inventory of his collection of art and antiquities, showed the breadth of Rembrandt's interests: ancient sculpture, Flemish and Italian Renaissance paintings, Far Eastern art, contemporary Dutch works, weapons, and armor.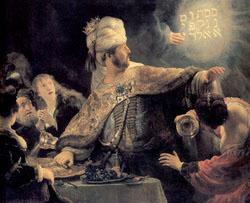 These problems in no way affected Rembrandt's work; if anything, his artistry increased.

Some of the great paintings from this period are The Jewish Bride 1665, The Syndics of the Cloth Guild 1661, Bathsheba 1654,, Jacob Blessing the Sons of Joseph 1656, and a self-portrait 1658.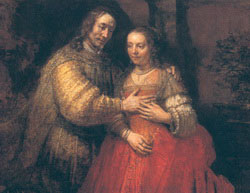 His personal life, continued to be marred by sorrow.

His beloved Hendrickje died in 1663, and his son, Titus, in 1668, only 27 years of age.

Eleven months later, on October 4, 1669, Rembrandt died in Amsterdam. He was buried in the Westerkerk in an unknown rented grave.


Return to 'Meet The Masters'

'Return From Rembrandt Paintings To Family And Pet Portraits Home Page'